Welcome!

2018 Edition Now Available!

Get a jump on 2018 car events. Order a copy today!

Our 51st annu­al edi­tion lists hun­dreds of auto shows, cruise-ins, swap meets, vin­tage races, muse­um shows and oth­er auto­mo­tive events hap­pen­ing through­out the Pacif­ic North­west & West­ern Cana­da for 2018. If you want to be in the know and plan your auto­mo­tive sea­son, you need this direc­to­ry. Don't delay; order today! Click the secure BUY NOW link at the left.

A Great Holiday Gift For Your Friends
Our 2018 Edi­tion makes a great gift for for the auto­mo­tive hob­by­ists in your life. All orders received by Decem­ber 16th will be mailed no lat­er than the 20th of Decem­ber, mean­ing that they should arrive in time for hol­i­day gift giv­ing. Click the secure BUY NOW link at the left to order your hol­i­day copies.
Winter Rod and Speed Show In Albany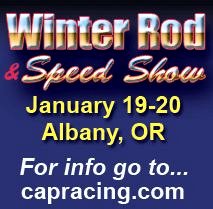 The 2018 Win­ter Rod and Speed Show opens the indoor car show sea­son on Jan­u­ary 19–20 at the Linn Coun­ty Fair & Expo­si­tion Cen­ter, 3700 Knox Butte Rd, Albany, OR. The show fea­tures hot rods, race cars, cus­tom trucks and clas­sics. This year's fea­tured celeb is famed motor­sports artist Ken­ny Young­blood, who will design cus­tom car art work free for each guest. Admis­sion is only $8.00. Show hours are 7:00pm to 10:00pm on Fri­day night and 9:00am to 6:00pm on Sat­ur­day. To enter a car go to www.capracing.com
D

&

L Restoration Moves to Larger Facility
Louie and Lau­ra Cohn, own­ers of D&L Restora­tion, have announced that their busi­ness is expand­ing and they have moved from their 119th Street address in south Everett, WA to a much larg­er build­ing in Mulil­teo, WA. The new build­ing is still close by their old facil­i­ty in South Everett BUT it is much eas­i­er to find. They are next door to Glen's Weld­ing and are a 1/2 block south of Dairy Queen. The new address is: 12315 Muk­il­teo Speed­way, Suite A, Lyn­nwood WA 98087. The phone num­ber remains unchanged at (425) 259‑8151. Don't let the Lyn­nwood part fool you…they're across the street from the city of Muk­il­teo. The Lyn­nwood post office just hap­pens to deliv­er the mail.
In addi­tion to get­ting a larg­er facil­i­ty, Louie and Lau­ra will be expand­ing their staff and an open house is planned once the dust set­tles. Drop by and dis­cuss your restora­tion needs with them. Their crew has a com­bined total of more than a cen­tu­ry of expe­ri­ence.

Looking to Set the Scene?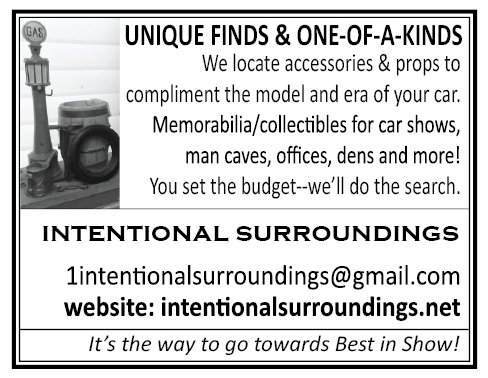 Whether you want to acces­sorize your col­lec­tor car at the car show, fur­nish your man (or woman!) cave or to cus­tomize the garage with auto­mo­tive decor and peri­od items that define the era of your machine and your taste, the one per­son you need to con­tact is Bev Hor­gan of Inten­tion­al Sur­round­ings. She'll leave no stone unturned in her search to find that per­fect accent for your car or cave. Shoot her an email and tell what you need. She'll find it!
Buying or Selling?



Got a col­lec­tor car, vin­tage trail­er or motor­cy­cle to sell?
Place an ad in the North­west Clas­sic Auto Mall and for one low price you ad can run until you sell! If you are look­ing to pur­chase a vehi­cle, check out the North­west Clas­sic Auto Mall's incred­i­ble list­ings. You are sure to find just what you are look­ing for. Con­tact them today!
Contact Us:
AutoWord Com­mu­ni­ca­tions
PO Box 1448, Kami­ah, ID 83536 USA.
Email address: nwcarevents at autoword.net