Welcome!
FIRE ALERT!
Due to the number of wildfires in British Columbia, Idaho, Montana, Oregon & Washington this summer, it is vital to check with event organizers before leaving for a show or cruise-in. Make sure the event is still planned. Also, be sure to check with law enforcement, highway departments and emergency services to assure that roads are open and conditions are OK. Double check your route to the event. Above all, stay safe and Call Before You Go!

We're Working on 2018 Edition!

Enter your events now to be included in our next edition

Although it is still summer, we are hard at work putting together next year's Little Yellow Book. Submissions for next year are now being accepted. Simply click on the Register Your Events link to the left and fill in the form. In order to make our on sale dates at swap meets in Early November the deadline for submissions is October 16th. You've only got a few weeks to get your events registered. Time is short to get your event listed in the book BUT the listing is FREE! So don't waste a minute; register your event today to be listed in the 2018 edition of the premier car events calendar for the Pacific Northwest and Western Canada.
D&L Restoration Moves To Larger Facility
Louie and Laura Cohn, owners of D&L Restoration, have announced that their business is expanding and they have moved from their 119th Street address in south Everett, WA to a much larger building in Mulilteo, WA. The new building is still close by their old facility in South Everett BUT it is much easier to find. They are next door to Glen's Welding and are a 1/2 block south of Dairy Queen. The new address is: 12315 Mukilteo Speedway, Suite A, Lynnwood WA 98087. The phone number remains unchanged at (425) 259-8151. Don't let the Lynnwood part fool you…they're across the street from the city of Mukilteo. The Lynnwood post office just happens to deliver the mail.

In addition to getting a larger facility, Louie and Laura will be expanding their staff and an open house is planned once the dust settles. Drop by and discuss your restoration needs with them. Their crew has a combined total of more than a century of experience.

Looking to Set the Scene?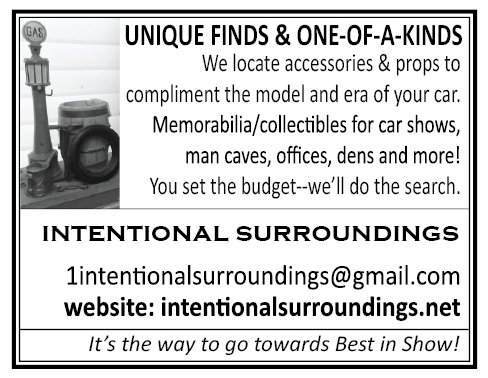 Whether you want to accessorize your collector car at the car show, furnish your man (or woman!) cave or to customize the garage with automotive decor and period items that define the era of your machine and your taste, the one person you need to contact is Bev Horgan of Intentional Surroundings. She'll leave no stone unturned in her search to find that perfect accent for your car or cave. Shoot her an email and tell what you need. She'll find it!
Buying or Selling?



Got a collector car, vintage trailer or motorcycle to sell?
Place an ad in the Northwest Classic Auto Mall and for one low price you ad can run until you sell! If you are looking to purchase a vehicle, check out the Northwest Classic Auto Mall's incredible listings. You are sure to find just what you are looking for. Contact them today!
Contact Us:
AutoWord Communications
PO Box 1448, Kamiah, ID 83536 USA.
Email address: nwcarevents at autoword.net